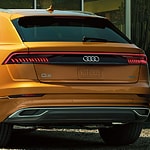 Audis are known for their strong performance, and the 2022 Q8 won't disappoint. This SUV is modern, stylish, and sophisticated, and it should live up to all of your expectations.
At The Audi Connection, every 2022 Q8 is powered by a turbocharged V6 engine. It has a good size to it, having a displacement of three liters. It also benefits from having a mild 48-volt hybrid system. As a result, it's able to make 335 horsepower and an impressive 369 pound-feet of torque. It can tow 7,700 pounds.
Audi has given the Q8 standard all-wheel drive. This kind of capability helps the vehicle handle tough terrain and slippery conditions around Cincinnati. It can further enhance overall handling, especially when the Q8 is cornering or accelerating. This SUV is quick to accelerate and uses an eight-speed automatic transmission. It can come with an air suspension and four-wheel steering if you'd like to take advantage of some optional features.